"Mamma Mia Zombies!" Documentation by "Officine Pixel" v1.0
---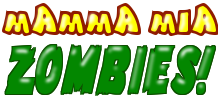 Thank you for purchasing our game. If you have any questions that are beyond the scope of this help file, please feel free to email via our user page contact form here. Thanks so much!
---
Here below you will find several sections telling you how to customize the game in its various aspects.
Table of Contents
---
Once again, thank you so much for purchasing this game. As I said at the beginning, I'd be glad to help you if you have any questions relating to this game. No guarantees, but I'll do my best to assist.
If you need, we can customize Mamma Mia Zombies! for you! Costs vary by the kind of customization, so, contact us for inquiring.
The staff of Officine Pixel
---